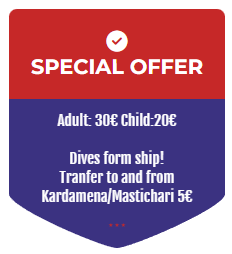 Highlights
Departure from Kos harbor at
10:00
Return to Kos harbor at 17:00
What you'll do

3 beautiful islands to the north of Kos. You go by coach from Kardamena (upon request) to the port of Kos where you join your boat to sail to Kalymnos, Pserimos and Plati. First one hour stop for relax at the golden sandy beach and swimming in the crystal blue sea of Pserimos island. Next two hours stop to Kalymnos for lunch and exploring the island beauties. At Plati the party begins! Try the best cocktails & drinks under the sun, test your diving skills and have a great time!
Itenerary


10.00 Departs from Kos harbor
 12:00 Departs from Pserimos island
Stop at Pserimos island and free time.
 14:30 Departs from Kalymnos Island
Stop at Kalymnos Island and lunch to tavern (7 different dishes )
50 minutes stop at Plati island
Stop at Plati island for swimming
17:00 Arrival to Kos harbor